Dive into the Cool World of Lush Ice Vape: Explore Our Collection!
Daneal Salloum .
Oct 24, 2023
Lush Ice Vape Flavour: A Flavorful Introduction
Lush Ice Vape, often referred to as Lush Ice vape flavour, is a flavour that's been making waves in the vaping community. It's renowned for its unique and invigorating combination of sweet watermelon and icy menthol undertones. This exquisite blend brings forth a symphony of flavours that dance on your taste buds, making it a top choice for vapers who seek a truly refreshing experience.
In this article, we will explore one of the most beloved and sought-after flavours, the Lush Ice Vape, specifically from the IGET lush ice vape brand, and also take a peek at some other popular offerings from the vaping world, such as IGET Legend 4000 puffs, IGET XXL, IGET BAR, and HQD HBAR. Let's dive in and tantalize your taste buds.
Ready to experience the refreshing watermelon and icy menthol of Lush Ice IGET? explore IGET Lush Ice vape options NOW!
What Flavour Is Disposable Vape Lush Ice?
Sweet Watermelon: The rich and sweet watermelon is the star of the show, creating a fruity punch that's both satisfying and energizing.

Icy Menthol Undertone: The cool, minty menthol undertone gives the lush ice flavour a delightful icy kick that keeps you coming back for more.
First, Let's take a quick hint about the lush ice vape flavour brands available at Let's Vape Store:
Brand: IGET
Flavor Profile: Sweet Watermelon with Icy Menthol

Key Features:

Refreshing Watermelon Flavor

Icy Menthol Undertone

Disposable and Portable
Product: XXL
Flavor Profile: Sweet Watermelon with Icy Menthol

Key Features:

Generous E-Liquid Capacity

Consistent Flavor

Affordable Pricing
Flavor Profile: Sweet Watermelon with Icy Menthol

Key Features:

Slim and Portable Design

Great Taste

User-Friendly
Brand: HQD
Product: HBAR
Flavor Profile: Unique Lush Ice Interpretation

Key Features:

Distinctive Lush Ice Flavor

Multiple Flavor Options

Positive User Review
IGET Vape Lush Ice: Unveiling a Legend
IGET Legend is a brand that stands out for its commitment to providing vapers with high-quality and convenient disposable vape options. Their Lush Ice variant is no exception, offering an extraordinary vaping experience. Here are a few key features of IGET Legend Lush Ice:
Refreshing Watermelon Flavour: The IGET Legend Lush Ice boasts an authentic and refreshing watermelon flavour. It's as if you're taking a bite into a ripe, juicy watermelon, making it perfect for all-day vaping.

Icy Menthol Kick: The icy menthol undertone in IGET Legend Lush Ice adds a layer of coolness that enhances the overall taste and keeps things interesting.

Disposable Vape: Convenience is key, and IGET Legend offers a disposable vape that's portable, making it perfect for on-the-go vaping.

High-Quality Liquid: IGET Legend is known for its commitment to quality. The lush ice flavor is made using premium e-liquid that ensures a consistent and enjoyable vaping experience.
Ready to be a legend among vapers? Check out our IGET Legend Lush Ice product.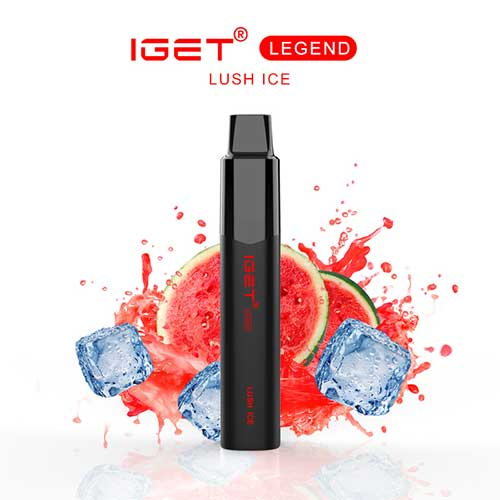 IGET XXL: Big Flavor, Bigger Puffs
For those who can't get enough of the lush ice vape flavour, IGET has something special with the IGET XXL. This disposable vape lush ice offers an extended vaping experience with its large e-liquid capacity, allowing you to enjoy more puffs of that refreshing watermelon flavour and menthol combination. Here are some reasons to consider the IGET vape lush ice form XXL:
Generous E-Liquid Stock: The XXL boasts an ample e-liquid reservoir, ensuring that the lush ice flavor lasts longer than many other disposable vapes.

Consistent Flavour: IGET's commitment to quality extends to the XXL, providing a consistent lush ice experience throughout the vape's life.

Affordability: Despite its extended capacity, the IGET XXL remains budget-friendly, making it an attractive option for those seeking value for price.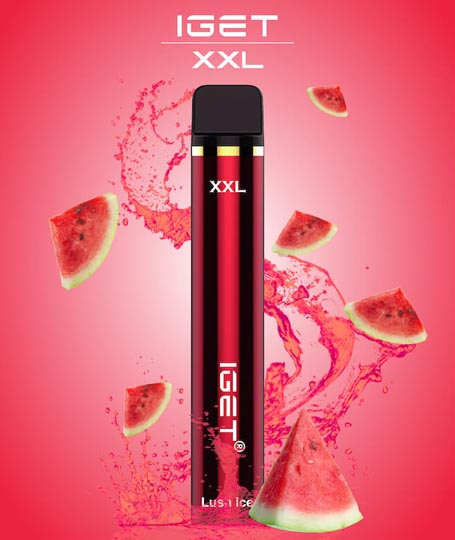 IGET BAR: Portable and Flavorful
IGET's Lush Ice IGET BAR is a testament to the brand's dedication to convenience and flavor. This slim and portable disposable vape packs the lush ice flavor into a stylish and easy-to-carry device.
Here's what you can expect from the lush ice IGET BAR:
Portable Perfection: The IGET BAR is designed with portability in mind. Slip it into your pocket or purse for a satisfying vape wherever you go.

Great Taste: Lush Ice IGET BAR offers the same delightful combination of watermelon and menthol, making it a favorite among flavor enthusiasts.

User-Friendly: With no maintenance or refilling required, the lush ice IGET BAR is perfect for beginners and experienced vapers alike.
Let's Hear Some Reviews From Our Customers..
Sophie L.: "I love how compact the IGET BAR is. It fits perfectly in my small purse, and the lush ice flavor is fantastic. It's my go-to for nights out with friends."
Daniel R.: "The IGET BAR is so easy to use. I don't have to worry about changing coils or filling tanks. The strawberry watermelon ice flavour is exactly what I was looking for."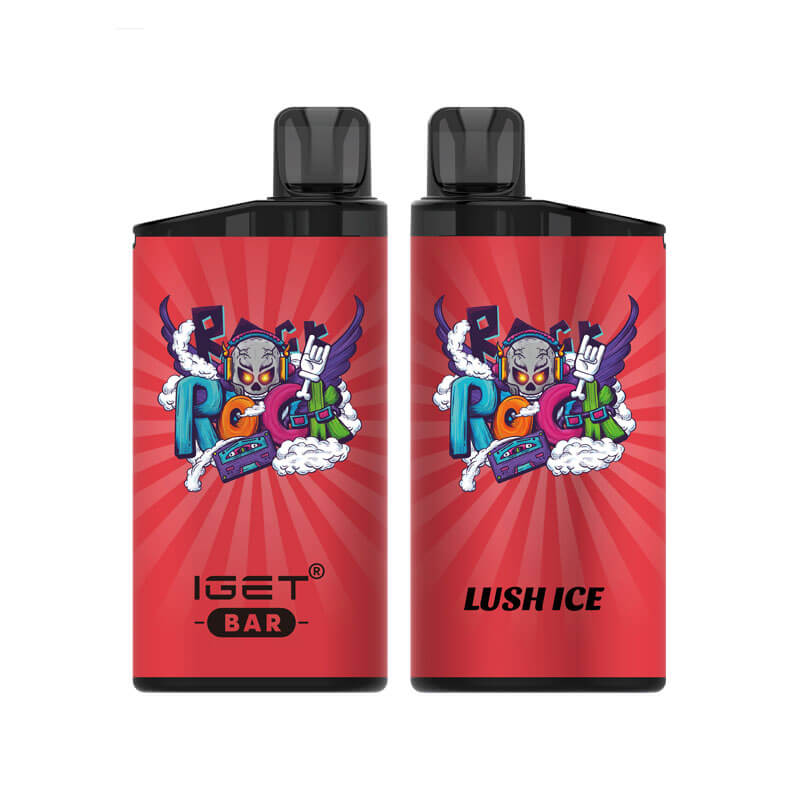 HQD HBAR: Another Flavorful Contender
HQD HBAR is another notable player in the world of disposable vapes, offering an array of enticing flavors. Among their lineup, you'll find the Lush Ice flavor, providing competition to IGET and other brands in terms of quality and taste.
Lush Ice Delight: HQD HBAR's Lush Ice offers a unique take on the classic flavor, ensuring that you get a distinctive experience with every puff.

Multiple Flavours: HQD HBAR caters to a variety of tastes, so if you're looking to explore different flavor combinations, this brand is worth considering.
The world of vaping is about exploring and savoring the unique tastes that it has to offer. With Let's Vape, you're just a click away from unlocking a world of flavours!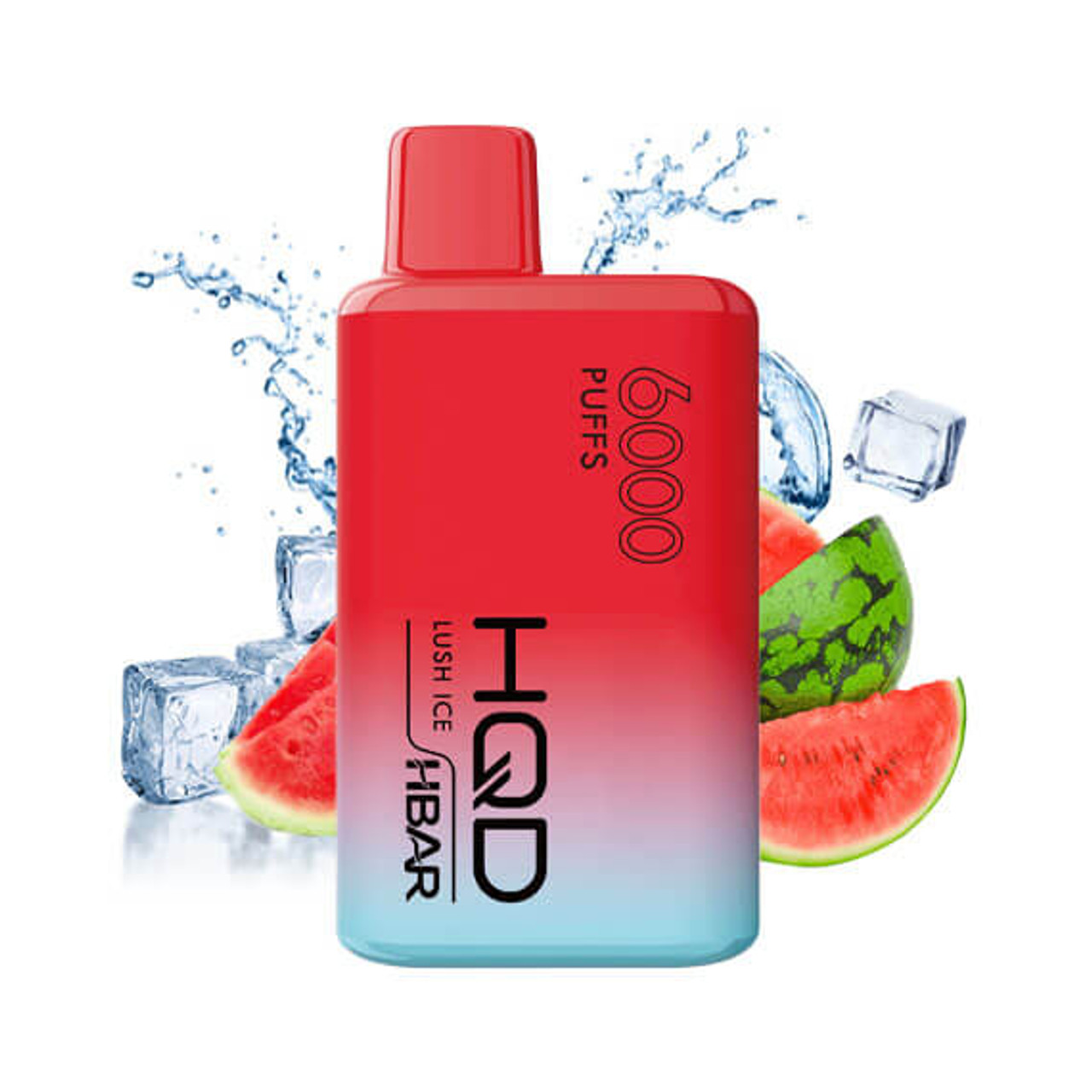 Frequently Asked Questions (FAQs) - Lush Ice Vape!
01- What flavour is Lush Ice vape?
Lush Ice flavour vape is a delightful combination of sweet watermelon and icy menthol undertones. It offers a refreshing and invigorating flavor profile that's both fruity and cool.
02- Is Lush Ice vape flavour good?
Lush Ice is widely regarded as a good vape flavor, appreciated by many vapers for its unique blend of sweet watermelon and menthol. Its popularity is a testament to its satisfying taste and cooling sensation.
03- Does Lush Ice vape flavour have nicotine?
Lush Ice vape flavors are available in both nicotine and nicotine-free options. If you prefer a nicotine-free experience, you can find Lush Ice variants available at Let's Vape stock.
04- Can I mix Lush Ice with other flavours?
Mixing Lush Ice with other flavors can be an enjoyable experiment, but it's important to choose complementary flavors. Combining it with other fruit flavors or additional menthol can create unique blends.
05- What brands offer Lush Ice vape flavour in Australia?
Some of the well-known brands that provide Lush Ice vape products in the Australian market include IGET vape lush ice, HQD, and other reputable manufacturers.
06- What's so special about IGET Lush Ice vape?
IGET Lush Ice vape is known for its exceptional balance of sweet watermelon and icy menthol undertones. What sets iget vape lush ice apart is the quality of the flavour, the portability of the disposable vape, and the consistent, enjoyable vaping experience it offers.