HQD HBAR 6000 Puffs: The perfect choice in 2023
Brendan Taylor .
Apr 26, 2023
Vaping has become an increasingly popular alternative to smoking in recent years. With a plethora of devices on the market, it can be challenging to find one that suits your own style and needs.
HQD HBAR 6000 Puffs is a top-of-the-line Lets Vape products list that is perfect for anyone looking to enjoy a satisfying vaping experience until the last drop of the flavour body.
HQD HBAR 6000 Puffs is a collection of disposable vapes Sydney that comes with a long-lasting battery life and an impressive puff count.
This device is perfect for beginners vape and experienced vapers vape alike, as it is easy to use and delivers a smooth and satisfying vaping experience.
What is HQD HBAR 6000 Puffs?
these disposable vapes are a great disposable vaping devices that come with a pre-filled e-liquid and powered by a long-lasting battery. This device is perfect for anyone looking for a hassle-free vaping experience without the need for constant refills or charging.
With a puff count of 6000, HQD HBAR 6000 Puffs is perfect for vapers who enjoy longer vaping sessions without the need to switch devices or refill their tanks giving you a premium experience in a stylish and ergonomic mouthpiece.
What makes HQD HBAR 6000 Puffs unique?
HQD HBAR offers several benefits over traditional vaping devices. Here are some of the key features that make it stand out among disposable vape is:
Hassle-free vaping
With HQD HBAR 6000 Puff, you don't need to worry about refilling your tank or charging your battery. This device is pre-filled with e-liquid and comes with a long-lasting battery that can last for up to 6000 puffs.
High-quality e-liquid
It comes with a pre-filled e-liquid that is made from high-quality ingredients. This e-liquid delivers a smooth and satisfying vaping experience that is sure to please even the most discerning vapers.
Long battery life
you can enjoy extended vaping sessions without worrying about running out of battery life or e-liquid because the disposable vape supports type c charging.
Wide range of satisfying flavours
The device is available in a wide range of flavors, including fruit, menthol, and tobacco. Whether you prefer sweet and fruity flavors or a more traditional tobacco taste, there is a flavor for everyone.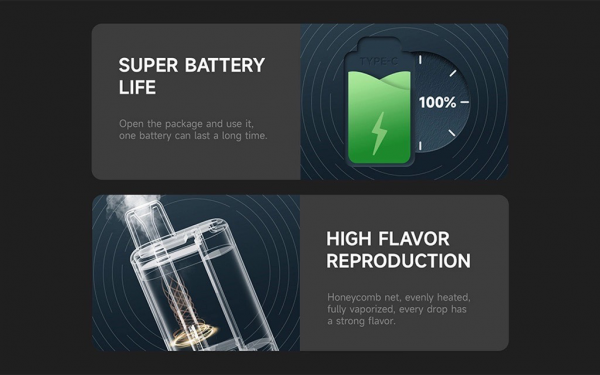 Determine your favourite flavour!
Explore now the rich flavours available now in our store!
Check the flavour reviews of the HQD hbar 6000 puff!
Blueberry raspberry
The amazing flavour of the 6000 puff HQD HBAR vape Blueberry Raspberry. With little pops of juice from the luscious blueberries and berries tart tastes.
Rainbow twist
The HQD Hbar 6000 puff disposable vape comes in a magnificent and overwhelming Rainbow flavour that combines the zingiest fruits—juicy, lemony, and minty—with the delicate delicacy of berries.
Cactus kiwi
A disposable vape product that beautifully blends tart kiwi and silky aloe vera.
Black ice
Nothing beats the smooth liquorice and minty of HQD HBAR vape Black Ice, savoury and delicious flavour after the flavour has been thoroughly enjoyed, it is a fact.
Grapey
HQD HBAR vape Grapey is just as ominous, moody, and sumptuous as a cluster of grapes. This sweet treat made of fruit has the ability to transport people and give them a satisfying feeling all around.
Strawberry Kiwi
HQD HBAR vape Strawberry kiwi flavours are combined in the kiwi flavour. This flavour is available to vape users who like tangy flavours.
Features of HQD HBAR 6000 Puffs:
Compact Design
Compared to its predecessor, the HQD HBAR 6000 Puffs has a smaller size, making it a more portable option for vapers who find larger devices cumbersome.
Non-Slip Body
The HBAR series features a special anti-slip material that prevents accidental drops and damage to the device, providing a better grip for users.
Water-Resistant
Improved water resistance on the HQD HBAR 6000 Puffs means that users need not worry about spills or condensation when they place the device horizontally on a table in a bar or other damp environments.
Mesh Coil Technology
The HQD HBAR 6000 Puffs utilizes mesh coil technology as standard, providing a larger surface area for more accurate satisfying flavour and more effective hits compared to devices without mesh coils.
Included Lanyard and Charging Cable
A lanyard and Type-C USB charging cable are included in the package, making it easy to keep the device safe and secure and to charge the device quickly. The Type-C cable can also be used to charge other devices.
How to use HQD HBAR 6000 Puffs?
Using HQD HBAR 6000 Puffs is incredibly easy. Simply follow these steps:
Remove the device from its packaging.

Remove the silicone plugs from the mouthpiece and the bottom of the device.

Take a puff from the mouthpiece to activate the battery.

Enjoy your vaping experience.
FAQs
What is the battery size of the HQD HBAR 6000 Puffs series?
The HBAR 6000 disposable vapes series is equipped with a 550mAh battery, a notably smaller size than the Box 4000 Puffs series' 1500mAh battery.
This difference can be attributed to the fact that the HBAR series is a rechargeable device. In order to effectively utilize its 16ml juice oil, a non-rechargeable 1800mAh battery would be required, however, no handheld device currently available could accommodate such a battery. As such, the implementation of a rechargeable design is a more optimal solution for the HQD HBAR 6000 Puffs series.
Where can I buy HQD HBAR 6000 Puffs?
You can buy HQD HBAR 6000 Puffs at Let'sVape, the cheapest store in Australia. We offer a wide range of vaping products, including the latest HQD HBAR 6000 Puffs series at an affordable price. Also, you can order your favourite flavour online and we will ensure you fast shipping!
Visit our website or physical store to purchase your desired disposable vape today.